Bathroom Safety in Batesburg-Leesville, South Carolina
Make Your Batesburg-Leesville Bathroom Safer with a Walk in Tub. Bathroom falls in Batesburg-Leesville, South Carolina are common, and the frequency is increasing each year. Falling threatens an individual's health and independent living. Falls can significantly impair a person's ability to remain self-sufficient in their own home. The Center for Disease Control reports that 1 in every 3 adults over the age of 65 falls each year. Over 25% of these falls result in moderate to severe injuries that include bone fractures, brain injuries and internal injuries. Most falls happen within the home.
---
Call for a FREE Quote
---
Independent Home Products, LLC Keeps People Safe With Walk-In Tub & Shower Installations in Batesburg-Leesville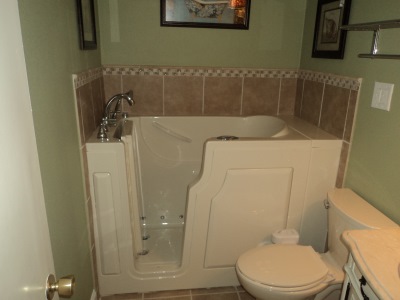 All of the staff at Independent Home Products, LLC are caring experts in bathroom safety. The safety of our customers is our number one priority as we design and manufacture walk in bath tubs for Batesburg-Leesville, SC residents. Each walk in tub is custom molded in our own facility to fit your needs. Wider models are available for full figured clients.
Our Batesburg-Leesville walk-in tubs offer the following safety features:
Low threshold for easy entry and exit
Wheelchair accessibility
Grab bars
Comfortable seating
Power speed drain – drains in 1-2 minutes!
Temperature controlled – allows you to set a maximum temperature
How to Prevent Falls in Your Batesburg-Leesville Bathroom
Remove objects that can be tripped over
Keep the bathroom floor dry
Install grab bars in the shower, tub and next to the toilet
Use non slip strips on shower floors and bathtub floors
Improve your restroom lighting
Keep items in cabinets and closets within easy reach
Use a rubber backed bath mat outside of the shower or tub
Cap Thermostat to keep water temperatures below 115 Degrees
---
Call for FREE Bathroom Safety Quote
---
WHAT CUSTOMERS ARE SAYING:
5★★★★★ - "I've been living by myself and I'm on oxygen. I was having trouble taking a shower and I couldn't stand that long. A walk-in spa was something that I felt that I needed. The rep from Independent Home presented really well to me. He was very knowledgeable and he got my cost down to where I could afford it. The installation team was super. On the first day, they came and tore out but they didn't have the water heater. So they came back the next day and finished up. They did really good work. The walk-in spa was a really good tub. I can walk-in in and sit down on it and I feel more independent."

Issac, Walk in Bath Benefits in Statesville, NC

2021-02-08

5★★★★★ - "My wife has difficulty getting in out of bath tub. She needed help as she kept on falling. Everything went well with the installation of the walk-in tub. It was very professional and very neat. The only thing that I have a problem with is that it said that when the jets were on, it was supposed to be heated water. But I don't feel that it's heating up anything because it takes my whole hot water tank to fill up the tub one time for a Jacuzzi bath."

Gary, Walk In Bathtub Installation in Gastonia, NC

2020-12-10

5★★★★★ - "The installers arrived quite early and took care of things. They were very good and polite. The installation was fine. I like the tub a lot."

S. of N.C., Walk In Bathtub Installation

2020-11-20

4★★★★☆ - "kinda like Independent Home's style of tubs and it was a good choice for us. But if I would do it again, I would say no. It's overpriced. The price was right at $12,000. Also, you have to get into the tub and turn the water on so you're sitting there naked and getting chilled. Older people like myself are cold most of the time. You are sitting in an empty tub waiting for the hot water to show up. You also have to do the same thing when you get out. You have to wait for all the water to drain. I could have come up with something a little bit better like having the door a little bit higher.
We also don't have plenty of hot water and we had to turn our hot water up. It'd be really hot coming in because then you run out of hot water. So we turned our tank up and that stopped that. But I love the tub itself. The two guys that came out and put it in were wonderful. They explained how the tub worked. They did a nice job. They busted up my old tub when they took it out 'cause they couldn't get it through the door but they did a really swell job and cleaned up after themselves."

Georgia, Walk In Tubs

2020-11-18

5★★★★★ - "I lost my leg a couple of years ago and we needed to get a tub that was stable enough for me to get in and out of with one leg because I might lose the other one too. So I started looking on Facebook and we called Safe Step but they wanted quite a bit of money. And Medicare really doesn't help people like me that have prosthetics. So, we couldn't afford them. I started looking more and I set up an appointment with Independent Home. Their sales rep came out and was telling me what the price would be. His name was Patrick and he was very nice and very informative. He told us to call him if we had questions or anything. We've called him several times and he called us right back. I also liked the way he presented the tub and how he was so professional. He was very helpful to us because we did have questions, so we really enjoyed meeting him.
Aside from that, there's a lifetime warranty on the tub. Plus, we knew we'd be moving and when I asked him what was going to happen with my tub if I have to move, he said they will move it for free and reinstall it wherever I go. So because of that and the price, we went with them. Their rep came out with the paperwork while they were installing the tub. My husband and I filled all that out, and they weren't pressuring us about this or that as far as price. And they worked with us really well about getting the old tub out and getting the new one in. So, it was a good experience all around. So far, everybody wants to come in and see my tub and I've recommended it to five people who have all been at my house. One of our friends also wants to come and see it. She's at the beach right now but I have told her all about it and I gave her Patrick's number. When she gets back, she intends on calling him."

Susie, Walk In Tubs in Colfax, NC

2020-10-26

5★★★★★ - "They placed a few grab bars in my bathroom and raised my toilet so it is ADA compliant. The walk in tub is perfect, but I was really impressed with the fact that they made my entire bathroom safer. Good company that has the best interest of the homeowner at top of mind. Thank you so much!"

Nina in Charlotte, NC

2015-05-22

5★★★★★ - "We chose the Access walk in tub since it's wheelchair accessible and I am bound to a wheelchair. The other national companies only offered tubs with an inward swinging door without side access."

Mary in Durahm NC

2015-05-22

5★★★★★ - "The sales rep was very informative and not pushy. After meeting with 2 other companies, it was clear that Independent Home walk in tubs was the best choice. Thanks."

Mark in Greensboro, NC

2015-05-22

"It has been a life saver for my ever since I slipped and fell in my old bathroom. Marie was concerned for me and wanted the peace of mind knowing I could leave the house and not worry about John using the bathtub."

Marie and John Crump in NC
---
Call for FREE Bathroom Safety Quote
---